The Predicament: Quality Insights from Less Than Quality Data
Healthcare industry stakeholders, patients, providers, and payers have been struggling with the repercussions of incomplete, incorrect, and inaccessible data for decades. Even in the face of other major challenges brought on by the COVID-19 pandemic, 37% of healthcare executives identified interoperability and 34% identified data utilization as two of their top three operational concerns in the next two years.1
The volume of available data is high, as are the many systems that store and process that data. Despite the quantity and a plethora of IT tools, organizations are faced with the "now what?" dilemma. There is a growing realization that the answer is not simply more data; rather, ensuring that existing data is accurate, complete, and accessible. With actionable and trustworthy data, organizations will be better equipped to:
Demonstrate the value of care delivery

Bill and pay accurately

Determine the impact and efficiency of treatment

Understand and combat disparities

Identify gaps in care

Develop accurate analytic models
As the industry focuses on the need for quality data to fuel these types of insights, it faces ongoing challenges such as:
Patient encounter data being siloed from the cost data generated by complex payment systems.

Interoperability issues around collecting, sharing, and synchronizing patient data that in turn drive up labor and software costs.

Operational complexities lead to data that is incorrect, incomplete, duplicative, or

outdated.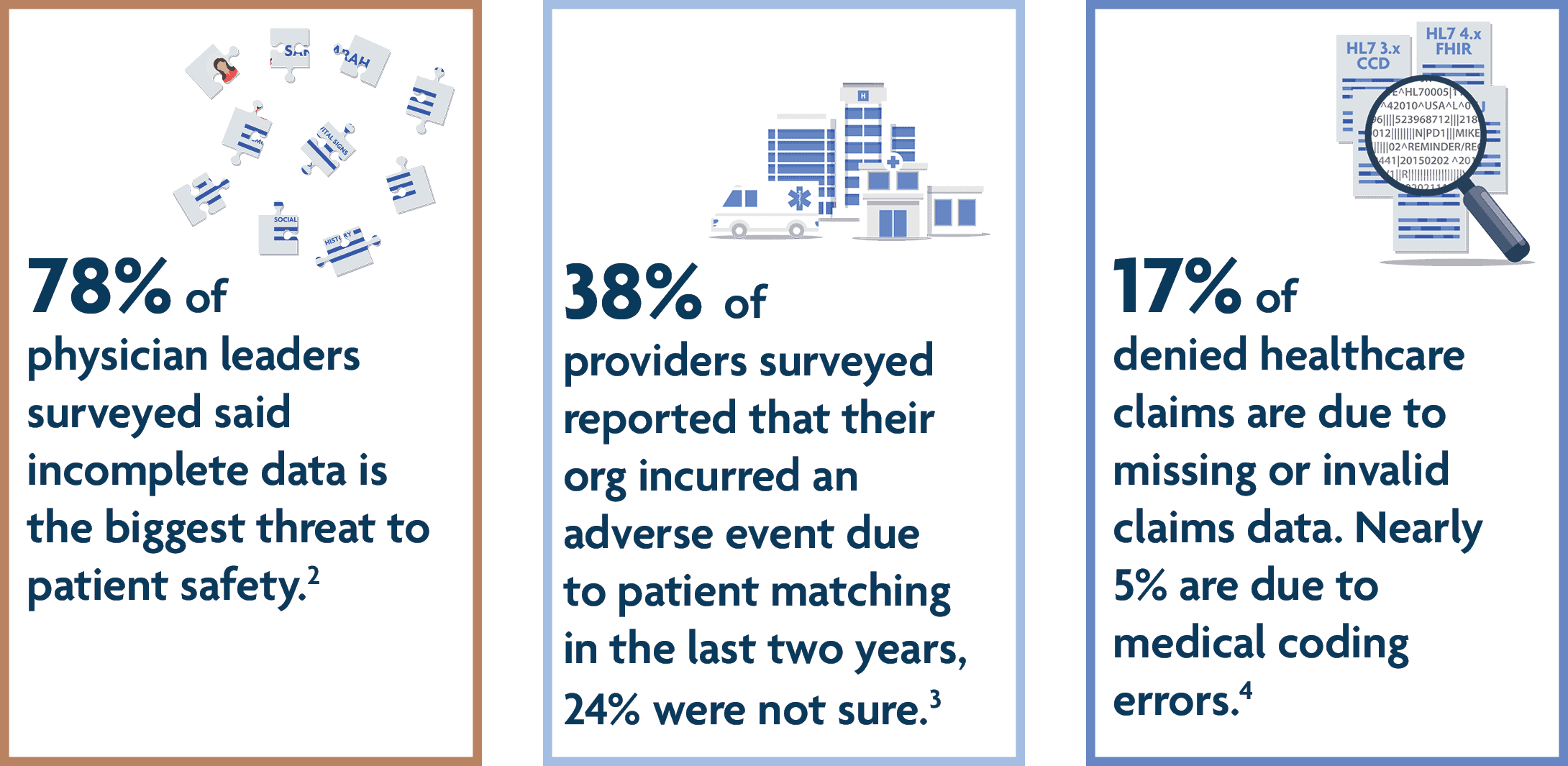 These challenges can be costly to mitigate in terms of resources and care delivery, but organizations are already taking several different approaches in tackling data quality deficiencies and roadblocks. Nationally, the U.S. government is leading the charge to ensure that data can be exchanged more effectively. Key 2022 mandates of the 21st Century Cures Act continue paving the road to interoperability, while the CMS Interoperability and Patient Access Final Rule requires CMS-regulated payers to implement FHIR API standards to facilitate patient access to data.
Even with the promises of improved interoperability on the horizon, organizations have more endemic issues to deal with around data quality. Do they take on better quality governance policies? Will "rip and replace" technology components be worth the time and money required for improvement? And if so, are they guaranteed to make the data quality situation better? Can automated curation services effectively enhance the quality of existing data?
To derive quality insights from less than perfect data, an organization may have to take on a variety of approaches — some that are more straightforward and impactful than others. Read Verinovum's white paper, The Demand for Quality Insights and the Promise of Data Curation Services to gain an understanding of the tactical requirements, cost factors, and performance variables to consider when developing an approach to improving the quality of your healthcare data.
1 HealthLeaders. Healthcare's Top Operational Challenges in the Next Two Years. March 2022.
2 Philips. Philips survey shows incomplete data may threaten patient safety. October 10, 2017.
3 eHI/NextGate. The State of Patient Matching in America: A 2020 National Survey. 2020.
4 Change Healthcare. The Change Healthcare 2020 Revenue Cycle Denials Index. 2020.