Healthcare quality is rarely simple — but it can be simplified
The Institute of Medicine report To Err is Human: Building a Safer Health System (2000) initiated a seismic shift in the administration, receipt, and payment for healthcare in the U.S. Quality became a hot topic of discussion among stakeholders, but change has been slow. Discussions of quality were tied to the topic of cost, which led to efforts defining and measuring the value of care.
However, the definitions of quality and value are rarely simple to quantify, and waste and error remain ubiquitous. Waste, healthcare resources which do not improve patient outcome or wellbeing, in the U.S. healthcare system is estimated in the hundreds of billions of dollars and is tied to many factors, including failures in how care is provided to a patient, lack of care coordination, and administrative complexities.
Since the start of the COVID-19 pandemic, the focus on quality has intensified and expanded. Health insurers and government agencies, who pay for most of the care Americans receive, struggle to determine how best to measure value and develop accurate calculations. High-quality data are necessary for the healthcare analytics informing patient treatment, clinical decision support, and care management. Patients, faced with huge bills and delays in getting care, are becoming savvier consumers, and demanding higher quality.
In this environment, government agencies and oversight organizations are evolving the standards they use to measure and define quality.
The National Committee on Quality Assurance (NCQA) HEDIS®1 measures, used to assess the quality of health plans, have come a long way since they were first implemented in 1991. The quality of care for members in each plan informs a notable percentage of the scoring. These scores reflect the performance of a health plan along the several domains listed below.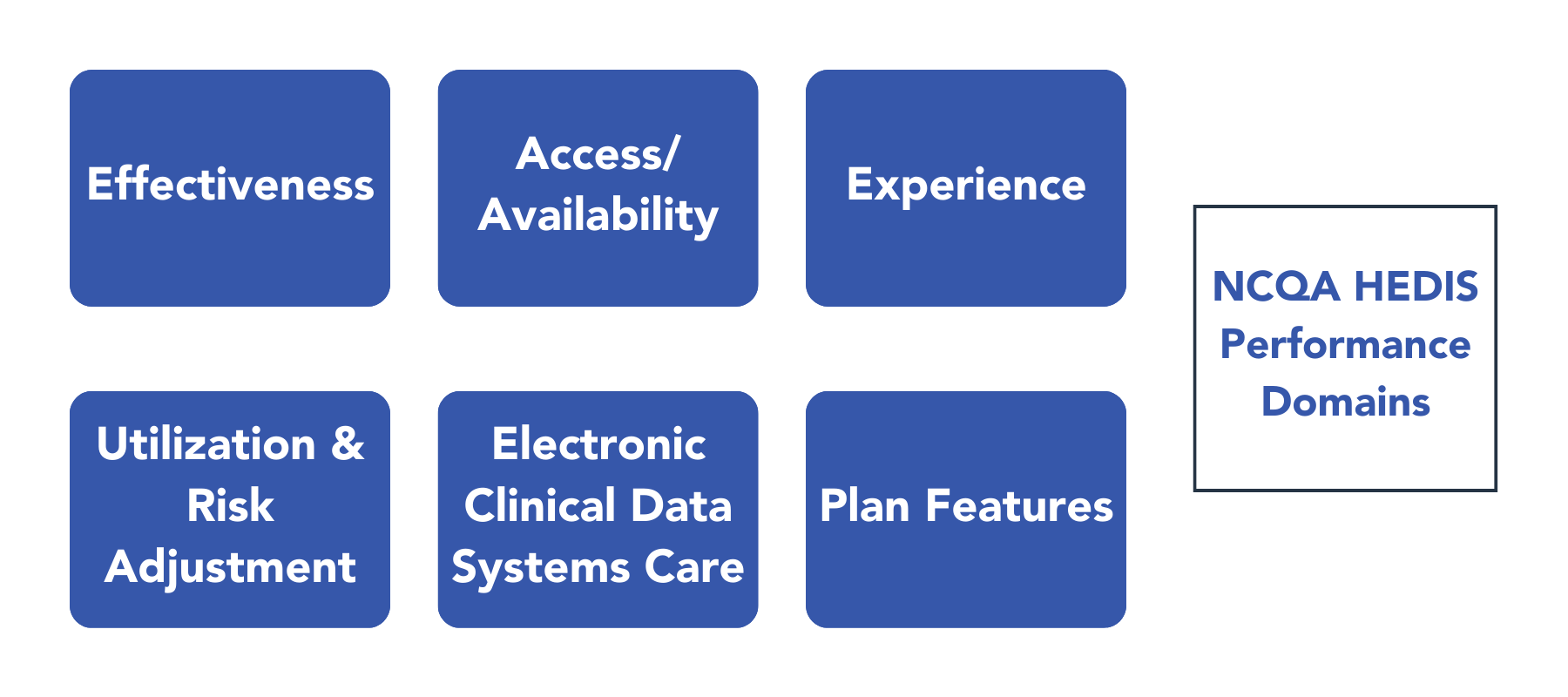 The mission of the Agency for Healthcare Research and Quality (AHRQ), part of the U.S. Department of Health and Human Services, is "to produce evidence to make healthcare safer, higher quality, more accessible, equitable, and affordable" (AHRQ, 2022, para 1). An essential part of this mission is the development of evidence-based methods to measure quality through healthcare analytics based on structure, processes, events, and outcomes across many provider-care disciplines. The AHRQ's focus utilizes the Institute of Medicine's quality domains to create these measures using clinical data and other inputs.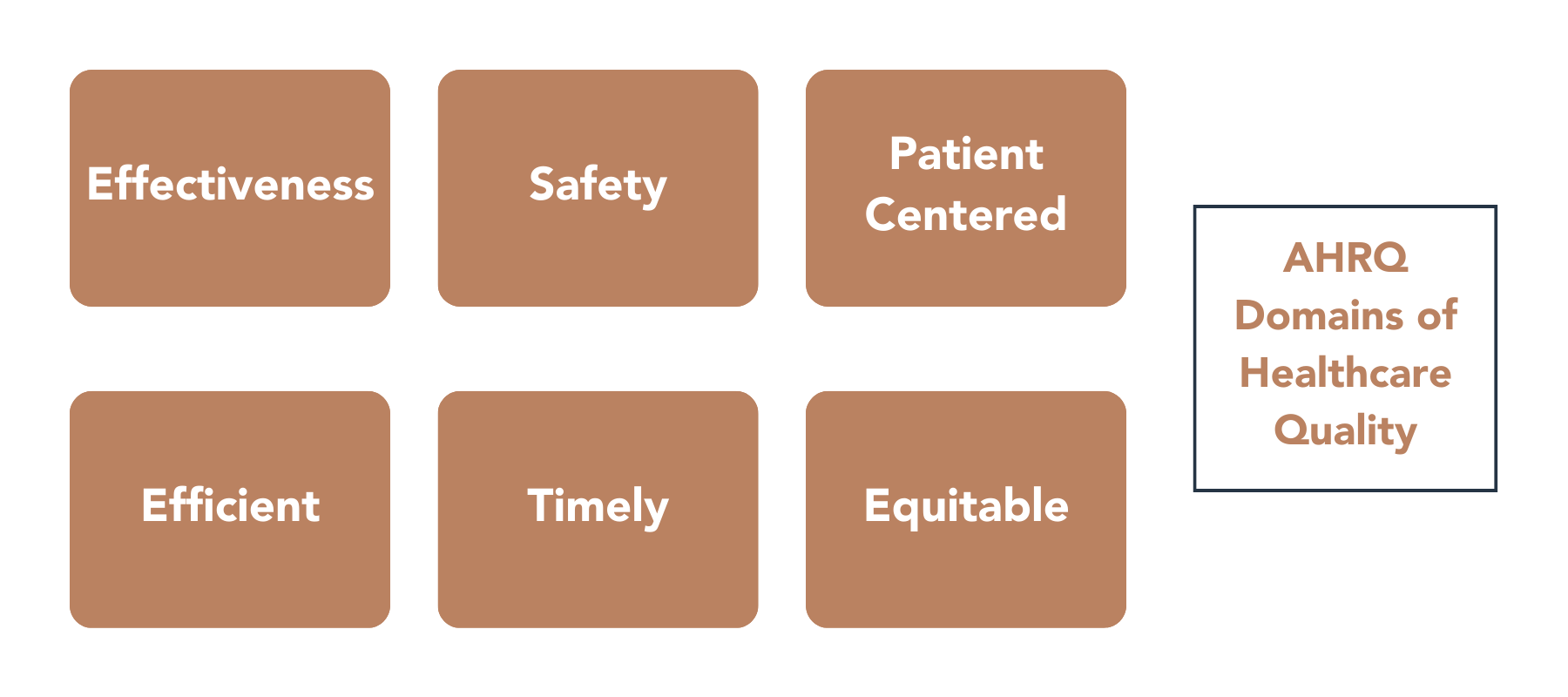 Quality measurement is rarely simple, and often starts with a scramble to capture and analyze healthcare data using the performance frameworks that organizations like the NCQA and AHRQ construct.
As payers and providers work through these clinical quality challenges, there are steps they can take to help ensure more powerful and accurate healthcare analytics. It is helpful to view the quality as a simple equation and then figure out how to improve the nominator, like so: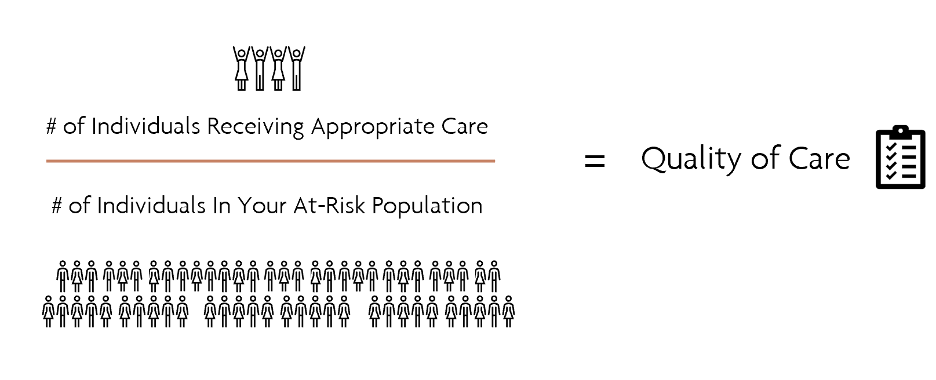 The appropriateness of care is a very rich variable influenced by equity, efficiency, and effectiveness.
To calculate the quality of care, health plans must start with the correct data necessary to make these calculations. Payers struggle with siloed data, chart chasing, and challenges getting providers to hand over data. Once data is acquired, there are a host of new problems, including inaccurate data, missing data, and non-standardized coding. If these challenges can be overcome, higher quality, more complete data can lead to better patient outcomes, better experiences, and lower costs — and that means more individuals receiving appropriate care.
Verinovum explores this topic in more detail in its on-demand webinar, Simplifying Your Quality-of-Care Equation. In this installment of Verinovum's the New Truths series, Dr. Mureen Allen, MD, FACP, Verinovum's Chief Medical Information Officer, and Envision Health's Senior Science Writer, Jill Pritts, discuss the challenges of measuring quality and how data curation can help to enable compliance and ensure the right members are receiving the appropriate care.
Complete the form below to access the full webinar.
1HEDIS® is a registered trademark of the National Committee for Quality Assurance (NCQA).