The Cures Act conundrum — turning expanded data sharing into more effective data usage
The 21st Century Cures Act, which was signed into law in December 2016, was designed to give consumers greater access to their own clinical data and further advance interoperability. Since telehealth usage had grown dramatically and clinical offices were being overwhelmed, there was an obvious need for a regulation that could make that happen.
More data does not always mean more insights
Yet, while these two goals are laudable, the Act does not make it any easier to get meaningful insights from payer data. This is because so much of the growing mountain of ingested data is unusable that it must be curated and enriched before it can yield anything of value.
Although the Cures Act requirements apply only to the payers that the Centers for Medicare and Medicaid Services (CMS) regulates (namely, Medicaid, CHIP, Medicare Advantage, and Qualified Health Plans on the Federally-facilitated exchanges), industry leaders speculate that it is only a matter of time before the rules cover private payers, too.
It is true that the Cures Act and related regulations call for more efficient information-sharing technologies and more expansive mandates for the kinds of data that must be shared, including:
Application Programming Interface (API) requirements:

Payers must furnish a plan provider directory accessible via API which includes — at a minimum — name, address, phone number and specialty.
Payers also must furnish a Patient Access FHIR® (Fast Healthcare Interoperability Resources) API to share adjudicated claims and clinical data with 3rd party apps.

Information blocking is defined and prohibited for providers, HIT developers, and HIEs/HINs.
CMS-regulated payers must provide a Payer-to-Payer data exchange — where they move the data elements of the U.S. Core Data for Interoperability (USCDI) from one plan to another — if a patient requests it.

These standard elements include an assessment/treatment plan, clinical notes, health concerns, lab value/tests, medications, procedures, and vital signs.
ONC and CMS regulations specify that ONC-certified electronic health systems must include USCDI data elements and associated standards.

State Medicaid and Federal Medicare data must be transmitted daily to CMS to better manage eligible members.
Electronic patient event notifications are required.
A Trusted Exchange Framework and Common Agreement (TEFCA) will be implemented to provide the necessary infrastructure for interoperability across the U.S.
Big challenges make it hard to make sense of the data
The problem, however, is how to derive pertinent, quality insights from all this augmented quantity of data. As Micky Tripathi, the national coordinator for health information technology explains, "Enabling access to 'all' electronically accessible health information is complex because EHR systems typically contain a wide mix of structured and unstructured data in a diverse range of formats that vary across vendor platforms and provider settings."
This is a critical obstacle to curating data from multiple sources into a coherent "source of truth" for each member and their provider encounters. Exacerbated by human errors, duplicate records, and missing HL7 data fields, the data lake begins to feel more like a data swamp.
Health plan executives are having trouble coping with this, in large part because of the disconnect between the technology and operations sides of the enterprise. In a 2021 survey of 220 health plan executives, 38.3% cited "alignment between IT and the business" as one of the top three significant challenges facing the organization. In a market facing competitive pressures, member satisfaction thresholds, and increasing costs, the divide between IT and business stakeholders complicates the struggle to make sense of the data.
Two of the three biggest challenges that survey participants cited to complying with CMS' frequent changes to quality standards and payment rules involved the lack of technology/infrastructure and staff, respectively.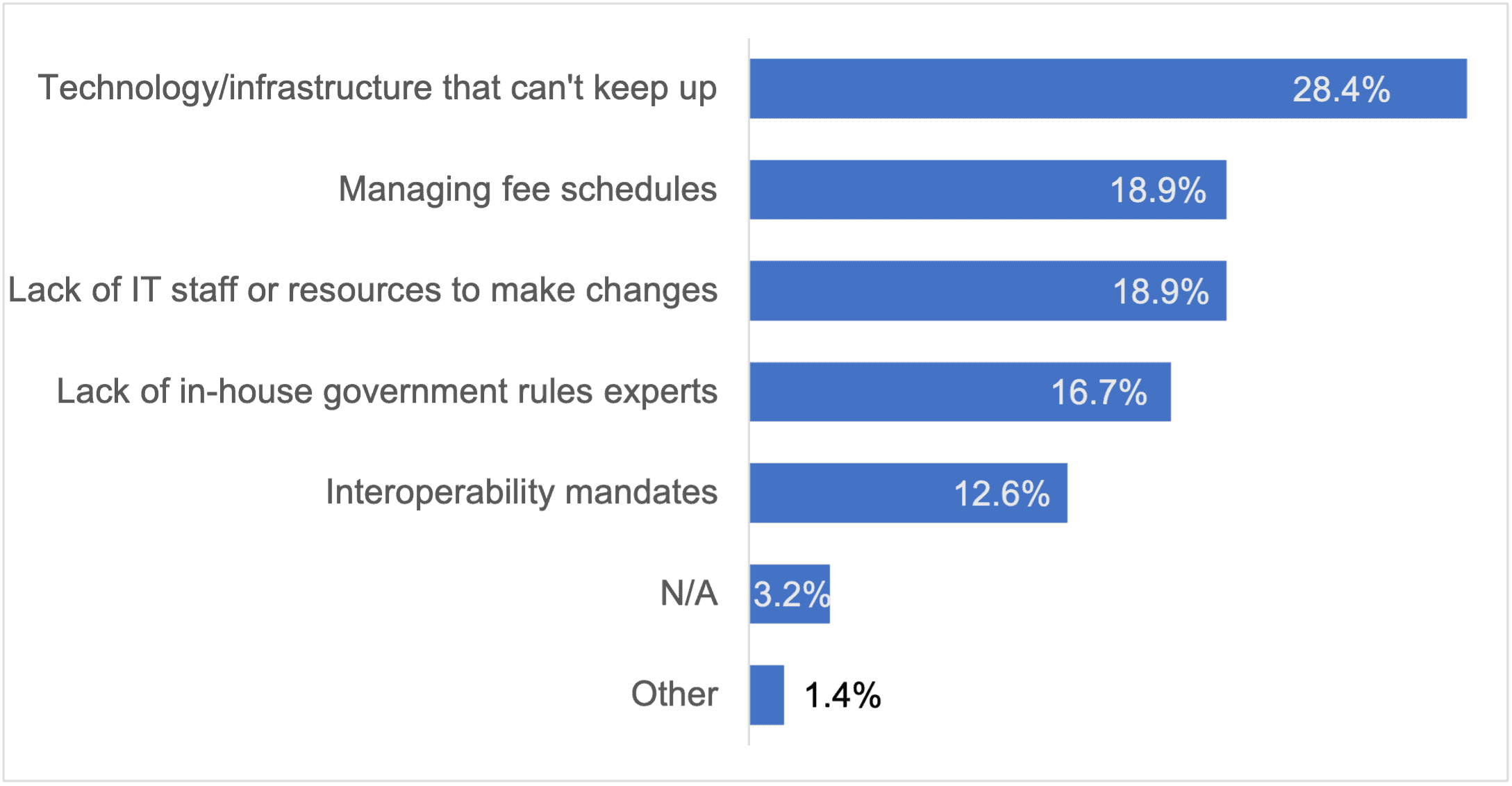 Technology solutions are available
Despite the challenges, the increasing accessibility of data afforded by the Cures Act gives payer organizations many opportunities to maximize the usability of data they aggregate. One solution they can implement is technology that will automate data cleansing and curation so that data scientists can focus more on generating insightful analyses and less on data governance. Automated data normalization and standardization can help:
Identify unique individuals and the services they receive during an encounter with a health system
Identify and assign correct providers for administering care to those individuals
Clarify when patients with chronic conditions are or are not receiving the care those conditions require
Reduce the chart chasing needed to administer care and disease management programs
Provide a more complete population health picture
CMS is still championing the groundwork it laid down to improve clinical information sharing in the United States, and the 21st Century Cares Act continues to build upon that foundation. To further the impact of this critical work, payers will need to develop the technologies, infrastructure, and skills required to improve the care their members receive.
Mining more valuable insights from the wealth of data that payers obtain should be at the heart of that mission. Verinovum's Data Curation as a ServiceSM can help that effort by consolidating the wealth of information from disparate data sources (EHRs, HIEs, payer data) into actionable insights and provide a comprehensive patient/member picture. The resultant high-quality clinical data can help payers improve efficiencies, meet compliance goals, and provide better quality care to member populations.