Early Bird Catches the Worm: High-Quality Clinical Data Leads to Successful Care Intervention
Early detection of cancer is critical to successful intervention. However, as the pandemic continues to create care gaps, how can we ensure that people receive their recommended screenings?
As social isolation became the norm during the early and continuing days of the COVID-19 pandemic, health systems and their dedicated workers faced an incredible burden — a need to ramp up care for those suffering from COVID, combined with a need to provide necessary regular care and preventive services.
While some parts of the healthcare industry could pivot to telehealth, other services such as preventive screenings, elective surgeries, and wellness visits were impeded by staffing shortages, overburdened staff, and canceled appointments due to concerns about SARS-CoV-2 transmission.
Preventive screenings were missed leaving the healthcare organizations to face the ramifications of the lost opportunities to detect cancer in its early stages where intervention is typically most impactful. These gaps highlight a need to identify members/patients who have fallen through the cracks during this tumultuous time. This need that existed before the pandemic has become even more critical today.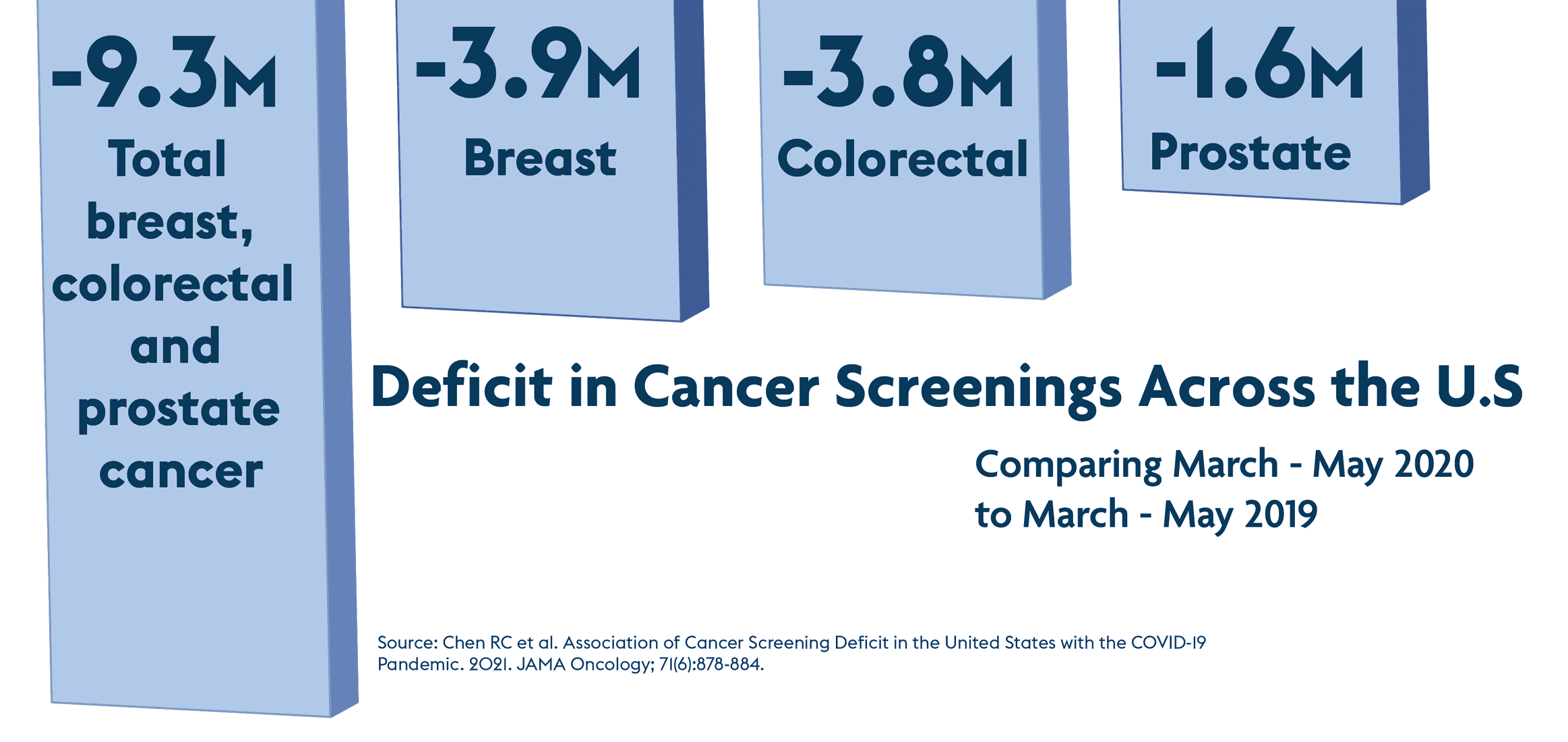 Those who face equity challenges may have been even more impacted. One study examined cancer screenings for women with low income and/or inadequate insurance coverage during the pandemic. Breast and cervical cancer screenings fell 87% and 84%, respectively, in April 2020 compared to the previous 5-year average for April.2
Of greater concern is evidence that suggests that these delays could be linked with the identification of later-stage cancers as screenings resume. One cancer prevention center that suspended Low Dose Computed Tomography (LDCT) screenings for lung cancer at the beginning of the pandemic experienced decreased screenings after reopening. They also found a significant increase in the percentage of patients with lung nodules suspicious of malignancy after screenings resumed.3 Given the lower screening rates and the increasing need for earlier interventions, payers are faced with three challenges:
latency of the data
completeness of the data
accuracy of the data
Incomplete, inaccurate, or delayed data analyses can all negatively impact clinical decision-making, case management, and disease management interventions. Payers looking to identify gaps in care often utilize claims data that can take many months to receive and analyze. Furthermore, payers looking to analyze clinical data for gap identification face challenges obtaining accurate high-quality clinical data from their contracted providers.
Data curation services, which acquire, standardize, and normalize clinical data, can present health plans with a complete picture of member encounters. These data can also be used to identify gaps in care, such as missed preventive screenings for cancer or other recommended checks such as HbA1c for members with diabetes.
Verinovum data curation services help payers build a complete data picture of members' encounters with the health system for critical health disease states including diabetes and cancer. Verinovum works as an intermediary between payers and providers to acquire and curate clinical data so that members in need are quickly identified. The data are standardized through proprietary technology and protocols, ensuring that the data used for outcomes measurement and analytics can be trusted when it comes to maintaining and improving the health of members.
1 Chen RC et al. Association of Cancer Screening Deficit in the United States with the COVID-19 Pandemic. 2021. JAMA Oncology; 71(6):878-884.
2 DeGroff A et al. 2021. COVID-19 impact on screening test volume through the National breast and Cervical Cancer early detection program, January – June 2020, in the United States. Preventive Medicine; 151(106559)
3 Van Haren RM et al. Impact of the COVID-19 pandemic on lung cancer screening program and subsequent lung cancer. J Am Coll Surg. 2021 Apr;232(4):600-605.