HFMA 2019 Annual Conference: Value-Based Care is Still Not a Reality
Though the government has been urging the industry towards value-based care (VBC) since implementation of the Affordable Care Act in 2010, it's been slow going, and many organizations are still working out exactly how to make the transition while retaining profitability.
At the HFMA 2019 Annual Conference held June 23-26 in Orlando, this transition was the topic of several panels, discussions, and presentations. There's little doubt that VBC is here to stay. CMS Administrator Seema Verma's comments from the NAACOS conference back in April still ring true, and the sentiment carried over to the HFMA event: "Reorienting our healthcare system around value is an urgent priority because of the unsustainable trajectory of our nation's healthcare spending. By 2027, American businesses, families, and the federal government will be spending nearly one in five dollars on health care … our key focus is payment reform that aligns financial incentives to lower costs while ensuring high quality and improving the patient experience."
Data is the Foundation
One truth that leaders at hospitals, payers, ACOs, CINs, and IDNs all seemed to agree on during the HFMA conference was that data analytics is the underpinning that will determine the success or failure of VBC. Analytics and reporting will be needed in order to validate quality outcomes and succeed financially under VBC, and all the organizations represented throughout the event said they had large quantities of data coming in from many and varied sources, and that taking on the financial risk associated with VBC would require precise, strategic reporting and analytics of that data.
In a presentation from Beth Israel Deaconess Care Organization (BIDCO) entitled, "Universal Truths of Value-Based Care Models: How to Uncover the Value in Value-Based Payment Arrangements," BIDCO quoted figures from the 2017 Value-Based Payment study from the American Academy of Family Physicians (AAFP), in which 74% of the 5,000 healthcare leaders surveyed cited "lack of resources to report, validate, and use data" as a top barrier to implementation of VBC.
Additional barriers to VBC mentioned in that same AAFP study included:
Lack of transparency between payers and providers (78%)
Lack of interoperability between types of health care providers (73%)
Lack of timely data to improve care and reduce costs (70%)
Clearly, a lack of the right data, and ways to access it, is a big part of why VBC hasn't taken hold as quickly as anyone had hoped.
What About Quality?
While so many presentations at the HFMA event focused on the need for analytics to achieve success in VBC, it seemed that no one was talking about the cleanliness, completeness, overall quality, or actionability of that data. Many healthcare organizations may be overlooking the fact that while data aggregation and interoperability are indeed important, starting with fragmented, unstructured, disorganized data will set any analytics efforts up for failure, resulting in an inability to generate the information needed under VBC payment models.
The fact is that embracing VBC requires providers to take on a level of financial risk—having some skin in the game—that wasn't necessary under the fee-for-service approach to care in the pre-ACA era. And there is undoubtedly a hesitancy in the industry to take on that risk; of the nearly 100 health systems with a presence at the HFMA conference, none said they had thus far signed up for Pathways to Success, CMS' National ACO Program for Medicare.
In order for providers to become comfortable with taking on the financial risk associated with VBC, quality data that leads to accurate, robust analytics is essential.
A joint HFMA presentation between Lumina Health Partners and Aetna, entitled, "Building the Blueprint to Support Risk-Based Contracts," lists the following elements as crucial for ACOs when taking on risk under VBC:
Obtaining "usable" data
Access to historical claims data
Consistent data format, level of detail for "in area, out of network" claims
Compatibility with ACO's analytic systems
Recommend attaching specified claim file layout as part of contract
The following graphic from the same presentation illustrates the desired trajectory of analytics that can be used for reporting and understanding data in VBC payment models: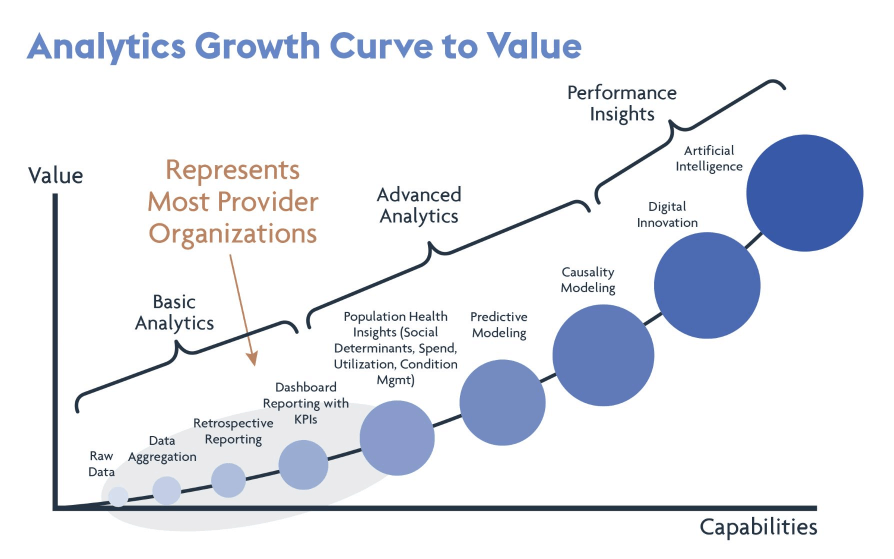 Image source: Lumina Health Partners and Aetna HFMA 2019 conference presentation
Yet, achieving the most advanced level of analytics shown in this chart – performance-based insights via the use of digital innovation and artificial intelligence – is simply not possible without clean, high quality data. Unless they focus on data curation and enrichment, healthcare organizations will remain stuck near the bottom of the curve shown here, unable to progress beyond even basic analytics. And such inertia is, without a doubt, impeding the industry's collective progress towards value-based care.
To discover more about how data curation and enrichment can help organizations be prepared to take on risk and succeed in VBC, download our white paper: