Verinovum cited in Gartner Report, "Drive a New Data and Analytics Architecture to Match Your Digital Healthcare Provider Needs"
The Power of Predictive Analytics
"Deployment of advanced analytics and artificial intelligence (AI) is massively reshaping healthcare. The industry is quickly moving away from static, retrospective analytics to predictive insights and prescriptive real-time action," according to the recent Gartner report, "Drive a New Data and Analytics Architecture to Match Your Digital Healthcare Provider Needs."
Research shows that predictive analytics is becoming increasingly important in healthcare. According to the 2017 Predictive Analytics in Healthcare Trend Forecast:
93% of healthcare leaders surveyed say predictive analytics is important to the future of their business
87% of payers currently use predictive analytics or plan to within the next five years
57% of executives believe predictive analytics will save their organization 15% or more over the next five years
Incomplete data was cited as one of the top three biggest challenges to implementing predictive analytics in organizations
The Gartner report continues, "We are seeing sweeping changes in the industry and are at an inflection point where the digital disruption is real. Advanced analytics and insights are more pervasively influencing actions, often in real time, across operational, clinical and business processes."
So how do we get there? The only way to reach an effective level of real-time analytics and have the quality of data needed to implement AI is to normalize, standardize, and enrich the data you're working with.
What Does Data Enrichment Look Like?
Data is the information that connects all stakeholders across the healthcare ecosystem— the information needed by payers, providers, Accountable Care Organizations (ACOs), Clinically integrated Networks (CINs), Health Information Exchanges (HIEs), and everyone involved in the coordinated care effort.
At Verinovum, "data enrichment" means more than "data management." Our Data Enrichment & Interchange Platform facilitates data extraction, standardization, normalization, and identity management, leading to actionable business decisions that allow organizations to deliver on a variety of use cases. Our tailored solutions for ACOs, CINs, and payers focus on three core principles:
Data fidelity – Perpetual storage of raw messages coupled with the use of a proprietary content blocking hash technique and configurable administrative tools allow for rapid onboarding of clinical data.
Data transparency – Ingested data is then interrogated for quality against desired customer use cases and normalization techniques are deployed to maximize the efficacy of the data asset available.
Data flexibility – As market goals change, the platform's normalization rules and maps can be modified on the fly, with only the data deltas being re-processed—the byproduct of the aforementioned proprietary data hashing technique. This maximizes time to value without sacrificing long-term flexibility.
"A new data and analytics architecture is needed to support digital care transformation. The risk of losing competitive advantage is high for any health system not investing in data and analytics tools, competencies and literacy," according to Gartner. At Verinovum, we believe our unique, end-to-end approach to data enrichment is the tool the industry has been waiting for.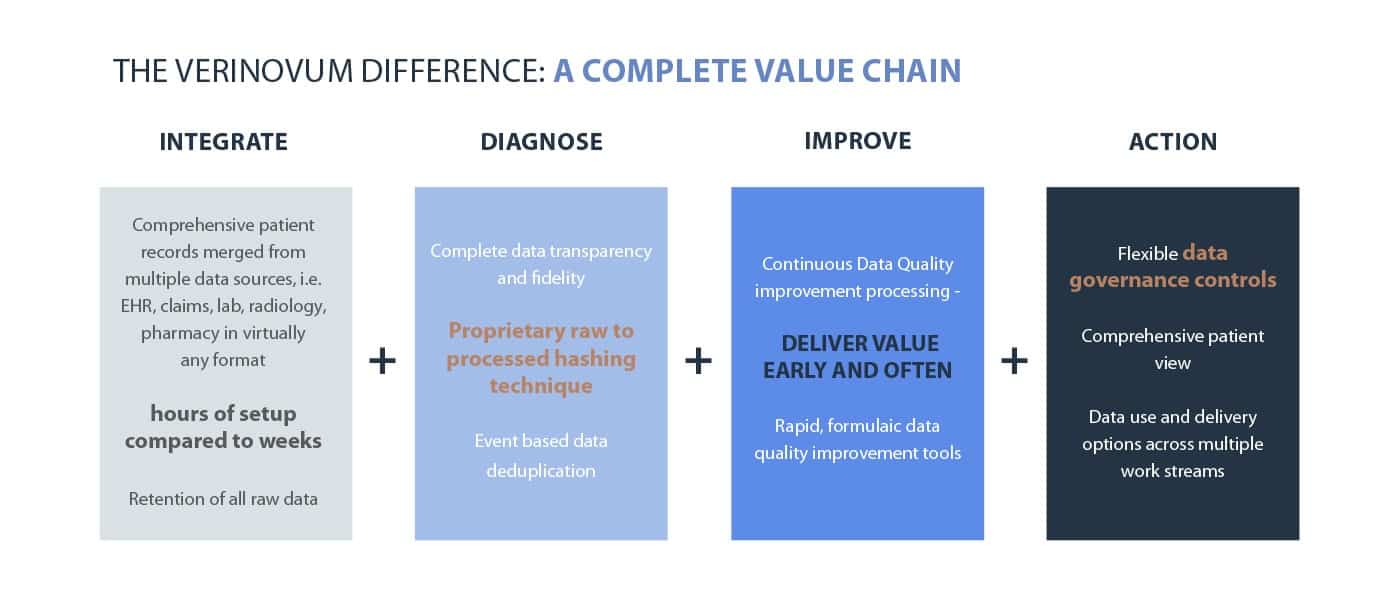 Gartner Disclaimer
Gartner, Drive a New Data and Analytics Architecture to Match Your Digital Healthcare Provider Needs, 18 December 2018, Laura Craft