Healthcare Compliance and Quality Improvement
What is compliance in healthcare?
Healthcare compliance refers to the ongoing process of abiding by all legal, ethical, and professional standards relevant to healthcare practices. In short, it's about following the rules, and in healthcare, these rules are highly complex and ever-changing.
It's important to remember that compliance in healthcare covers a wide variety of practices and is subject to both internal and external rules. Most issues pertain to patient safety, patient information privacy, and billing practices. Organization-wide healthcare compliance ensures that everyone adheres to the correct procedures, and that they understand expectations, with the primary goal of providing high-quality and safe patient care. 
Why is healthcare compliance important?
In a highly regulated, high-risk industry like healthcare, a strong compliance program is especially important and non-optional. It is mandatory for every healthcare organization to have some level of compliance to operate effectively. Compliance ensures all rules, regulations, and laws are being followed correctly. It is especially critical in the healthcare industry because the stakes are much higher than in other industries. In some cases, consequences can literally be "life or death." Even little mistakes can have dire repercussions on patient outcomes, care coordination, and patient safety. 
The main priority is to provide safe and high-quality patient care. Complying with standards and regulations helps healthcare organizations continue to improve the quality of care. Everyone has a role in maintaining compliance, and leaders must encourage transparency and ethical behavior. Every staff member must take responsibility for following all procedures and regulations.  
What is Continuous Quality Improvement (CQI) in healthcare?
Continuous Quality Improvement (CQI) in healthcare is an ongoing process that analyzes patient care to provide stronger, more efficient healthcare. The process of improving healthcare includes identifying problems, implementing changes to fix those problems, monitoring whether the changes help, and making further adjustments if they aren't getting the desired results. Overall, CQI is always looking to advance healthcare by asking "How are we doing?" and "Can we do it better?" Common CQI goals include:
Cost reduction

Decreased appointment wait time

Reduced in-department wait time

Higher patient volume
Decreased cycle time

Reducing defects

Increased patient and/or staff safety

Increased patient and/or staff satisfaction
Why is quality improvement in healthcare important?
The overall goal of quality improvement in healthcare is enhancing safety, effectiveness, and efficiency. By improving the quality in healthcare environments, providers can ensure their healthcare processes are reliable and cost effective. When healthcare systems focus on quality improvement, they can continually improve the quality and safety they provide to their patients, achieving everything from financial savings to saving patients' lives. 
A strong focus on quality improvement will better prepare healthcare systems to maneuver through large medical crises, as seen throughout the COVID-19 pandemic. The importance of healthcare quality has been accentuated during the recent pandemic as healthcare professionals were challenged to provide exceptional, quality care while providing for themselves, patients, families, and their communities. During its peak, healthcare systems used quality improvement processes to enhance their methods of care, reduce patient deaths and ICU stays, keep more hospital beds open, and ensure the safety of all patients and staff. 
Overall, the focus of quality improvement in healthcare is improving care delivery and enhancing patient outcomes. In order to achieve a successful program, healthcare organizations need a strong environment where quality improvement comes first. It all starts with healthcare service providers adapting to this environment and its principles.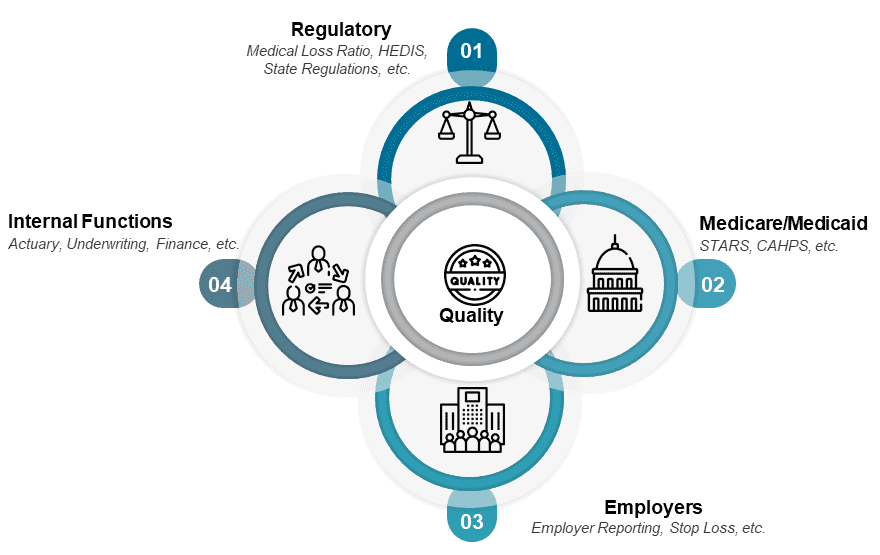 Principles of quality improvement in healthcare systems
The process of quality improvement is all related to an organization's service delivery approach, level of patient satisfaction, efficiency, and outcomes. In order to successfully improve quality in healthcare, everyone involved must understand how systems and processes can coexist with personalized care. With this understanding, improvement efforts can focus on routines, while clinicians continue to deliver exceptional patient care. 
A successful quality improvement process should always incorporate guiding principles that lead them to achieve their goal of stronger, more efficient care. These are four key principles healthcare organizations should consider:
Benefits of quality improvement in healthcare systems
Safety: A systematic and organized approach is recommended for optimizing care for the patients and avoiding harm. It embraces a culture of safety, quality, and transparency.

Effective: By being data driven, healthcare systems and organizations can ensure quality improvement processes help reduce the chances of failure and redundancy. 

Patient-centered: Improved efficiency of managerial and clinical processes allows doctors and staff to provide responsive, respectful, and high-quality value-based care.

Proactive: Improved processes recognize and solve problems before they occur.

Cost-effective: Quality improvement processes avoid the costs associated with process failure, poor outcomes, and errors. Reliable and streamlined processes are less expensive to maintain.

Efficiency: Improved processes make inefficient activities associated with equipment, supplies, ideas, and energy more evident and therefore easier to eliminate.